Keeps track for money back
Register your email address with Pricerazzi and never miss a deal again. Your online shopping receipts are automatically forwarded to Pricerazzi, saving you time and money.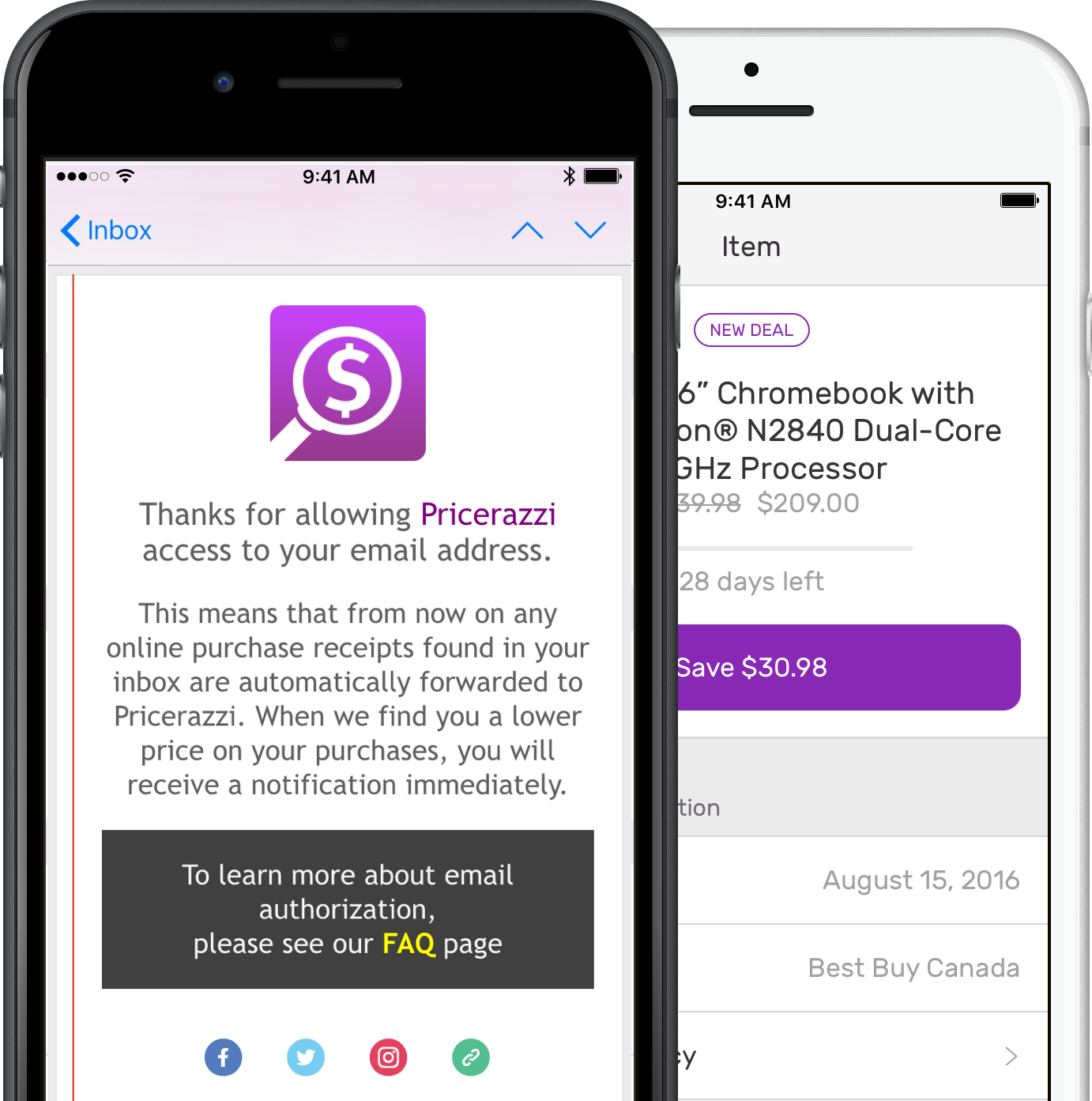 Now Boarding!
Pricerazzi now price matches your flights so you never miss out on savings again!
At this time, our services are exclusive to flights booked through expedia. Don't miss out!
Fly the Pricerazzi way!
How Pricerazzi Works
Pricerazzi searches over a 1000 stores to make sure you paid the lowest price.
Download our app or sign up for email authorization
Free download on iOS & Android devices, available for Outlook & Gmail users.
Go shopping
We monitor online receipts sent to your inbox, or you can take a photo with the Pricerazzi app for in-store purchases.
Receive Alerts
We'll let you know when a better deal is available so you can get money back from the original merchant.
Retailers
Pricerazzi searches thousands of online retailers as well as in-store merchants to ensure you pay the best possible price. Here's a list of some of the most popular:



What people are saying about us
Purchased a new Pax Closet System from IKEA, we submitted our receipt to Pricerazzi and got over $190.00 back.

– Colleen O.

We bought our Christmas presents from Toys ''R'' Us and spent over $300 total. We submitted all of our receipts got $30 back – thank you.

– Dennis J.

After purchasing a new dishwasher for our kitchen. Pricerazzi confirmed that I got the best and lowest possible price

– Jason S.

Purchased a Furby at Toys "R" Us. A few days later Furby went on sale at Walmart! We were able to get back over $50!

– Andrea B.

Since signing up with Pricerazzi they have gotten my back over $3000.00 back – We love you Pricerazzi

– Carol H.
Want even more money back?
Whichever way you like to shop, Pricerazzi has you covered. Submit your in-store receipts with our free mobile app and claim your best price today.